Jess Jiang
CPA, CA, CBV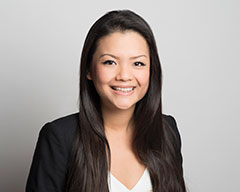 Jess Jiang is a member of the Chartered Professional Accountants of Canada, the Chartered Professional Accountants of Ontario, and the Canadian Institute of Chartered Business Valuators.
Jess joined Blair Mackay Mynett Valuations Inc. ("BMM") in October 2015.  She has experience preparing valuations of private companies operating in a wide range of industries in connection with shareholder disputes, family law matters, mergers and acquisitions, corporate restructuring and tax planning.
Prior to joining BMM, Jess was employed at a national professional services firm in Toronto where she specialized in private company valuations, and Deloitte LLP where she completed audits of mutual funds, private equity funds, insurance companies and banks.
To contact Jess, please call 604-697-5283 or email jessica@bmmvaluations.com.